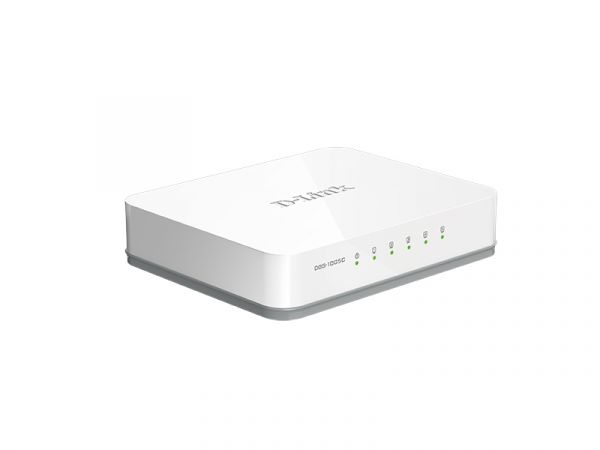 DGS-1005C
EOL EOS
מתג שולחני עם 5 פורטים במהירות ג'יגהביט ותכונת חיסכון בחשמל (מארז פלסטיק)
היכן לקנות
תאור
5-Port Gigabit Switch D-Link DGS-1005A is part of a new series of devices to networks SOHO. These switches support the technology D-Link Green, saving energy, low heat dissipation and longer life without affecting the performance and functional characteristics. Five Gigabit ports on the switch can be used to expand the existing network or its translation into standard Gigabit Ethernet. Thanks to energy-saving power adapter (certified according to Energy Star Level V), standards compliance with the RoHS directive restricting the use of hazardous substances, as well as due to this switch recyclable packaging is environmentally friendly.
 
Fast and reliable networking
Using Switch DGS-1005A can quickly establish a network in the office, as Gigabit Ethernet ports provide high-speed wired connection of up to 5 computers or other devices. In addition, the switch supports QoS, which prioritizes network traffic, thereby providing, efficient data transfer delay sensitive, even in networks with heavy traffic. With its stylish design and ease of use, this switch is ideal for work in networks today and in the future.
 
Saving energy
Switch DGS-1005A provides energy savings by using several methods. The switch determines the connection status of each port and automatically cuts off power inactive port or ports connected to the computer, the work which has been discontinued.
 
Caring for the environment
5-Port Switch DGS-1005A is designed to meet the requirements of environmental protection, in accordance with the standard EnergyStar Level V and regulations CEC and MEPS, requires the use of power adapters that reduce energy consumption. The switch also complies with RoHS standards to limit the use of hazardous substances and uses recyclable packaging, which significantly reduces the amount of waste in accordance with Directive WEEE.
מאפיינים כללים
Interfaces
• 5 Gigabit ports 10/100 / 1000Base-T

Supported Features
• Green Ethernet
• Switching Matrix: 10 Gbit / s
• Automatic polarity MDI / MDIX on all ports
• The method of switching: store-and-forward
• Ethernet / Fast Ethernet: full duplex / half duplex
• IEEE 802.3x Flow Control
• Jumbo-frames 9216 bytes
• Supports IEEE 802.1p QoS (4 queues, Strict Mode)
• Cable Diagnostic

Standards
• IEEE 802.3 10BASE-T Ethernet (copper twisted pair)
• IEEE 802.3u 100BASE-TX Fast Ethernet (copper twisted pair)
• IEEE 802.3ab 1000BASE-T Gigabit Ethernet (copper twisted pair)
• ANSI / IEEE 802.3 NWay auto-negotiation and mode of operation
• IEEE 802.3x Flow Control
• IEEE 802.3az Energy-Efficient Ethernet (EEE)

Protocol
• CSMA / CD

Data rate
• Ethernet: 10 Mbit / s (half duplex) 20 Mbit / s (full duplex)
• Fast Ethernet: 100 MBit / s (half duplex) 200 Mbit / s (full duplex)
• Gigabit Ethernet: 2000 Mbit / s (full duplex)

Filtration rate / packet
• Ethernet: 14,880 packets / sec per port
• Fast Ethernet: 148,800 packets / sec per port
• Gigabit Ethernet: 1488000 packets / sec per port

Buffer RAM
• 128KB per device

Indicators
• In Port: Link / Activity / Speed
• On the device: Power
נתונים פיזיים
Dimensions
• 91 x 73 x 22 mm
 
Weight
• 330 g
 
Power
• Power Adapter 5V / 1A
 
Power consumption
• Input: 2.37 W DC, AC 3.9 W
 
Temperature
• Operating: 0º to 40ºC
• Storage: -10 to 70 ° C
 
Humidity
• Operating: 10% to 90% (non-condensing)
• Storage: 5% to 90% (non-condensing)
 
MTBF
• 1261786.896 hours
 
Certifications
• CE class B
• FCC class B
• ICES-003 Class B
• VCCI class B
• C-Tick
• Anatel
• CCC
• cUL
• CB
• LVD